Meet the guy who put the Christian back into Hans Christian Andersen. Author Doug Verner retells eight fairy tales, most of them well-known, as Christian parables.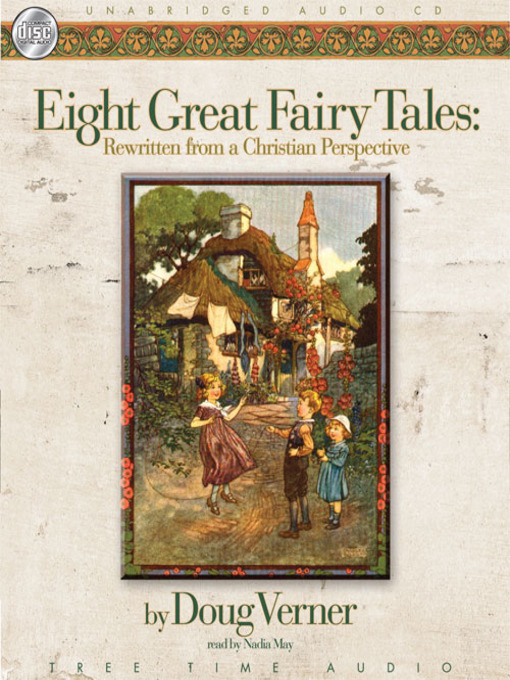 I was charmed by this tiny audiobook (about an hour in length). Each fairy tale lasts 5-8 fast-paced, entertaining minutes. Just long enough to catch the drift of the story and the author's new twist on the tale, without feeling bogged down.
Reader Nadia May is a pleasant and upbeat narrator. I have heard voice actors who put a greater variety in their characters' voices, but I find nothing to complain about in her brisk, cheerful, and at times tongue-in-cheek interpretation. She makes me feel like I'm in the school library, cozily tucked up on my carpet square by my favorite librarian.
I was dismayed to find Verner's work has not found nearly the attention it deserves yet. True, the parallels are not subtle, nor are they intended to be. They are allegorical, where one thing represents another almost 100%. So much of whether you enjoy these stories will depend on how you feel about allegories and Christianity. If you are a fan of Paul Bunyan's Pilgrim's Progress, you'll find much to admire about these illustrations of the Christian journey.
Plus, these fairy tales have a touch more whimsy thrown in. "Little Red Righteous Hood?" What a delicious pun. The parody of The Princess and the Pea mirrors Hans Christian Andersen's original so closely it's rather brilliant how the author finds new meaning in the old tale.
So far I have not been able to find this work in any kind of written format, only audiobook. Seems a shame because I could envision a Sunday School teacher reading a piece aloud over a period of eight weeks. Or picking five favorites and featuring one a day for a VBS week, possibly having the kids act it out.
But it would be a mistake to limit these stories to children. Like Narnia, the adult who reads these fairy tales will find more depth in them, because she has more life experience. Take the retelling of The Gingerbread Man. In Verner's version, he's the "Runaway Man," a backsliding Christian. The sing-song retelling has some of the resonance and tenderness of the parable of the Prodigal Son. The characters chasing the Runaway Man are now his parents, his Sunday School teacher, and many others who care about his welfare. And the crafty old fox who offers to carry him across the river? Oh, guess who that is! I could see an adult class taking on one fairy tale each week and then discussing the real-life applications.
I hope more listeners discover Verner's work, and that he expands these delightful tales into other formats. They could lead to entertaining introspection on the Christian life.